GROWTH, RECONSIDERED
For too long, too many businesses have acted on an unhelpful myth: build it and they will come. Rather than focusing their efforts on selling well, often they fixate on developing a great set of products and services, assuming that sales and organic growth will take care of themselves. This couldn't be further from the truth. Turning your focus away from sales risks revenues and the opportunity to make efficiencies, and, ultimately, will have a negative impact on the bottom line.
It is perhaps understandable that businesses do this. Developing a new product or service creates a buzz and an energy that attracts the creative minds within a business that others want to coalesce around. The successes of businesses such as Apple, Netflix, Google and Tesla, with their seemingly always-on approach to product development, may have led us to over-value innovation. Too many companies want to be disruptors, in a narrow sense of that word.
Of course, quality of product and service is important. But in our rush to embrace innovation over all, businesses are paying the price for distraction. They need to recognise that most markets in today's economy are hyper-competitive, busy and generally overcrowded. Not only does this mean more bargaining power for the customer, it means products and services will tend to be similar. Across most markets, innovation is constant, never-ending and accelerating. So, the minute a business thinks it has a marvellous new idea, 20 competitors will appear with something similar.
Innovation will rarely, if ever, make up for the revenue loss caused by a broken sales channel. The truth is that even mediocre products, properly positioned in appropriate channels, will do better than innovative products poorly sold. If the gold standard is a great product brilliantly sold, if forced to choose one over the other, the focus should be on the latter rather than the former.
In a world where markets are overcrowded, businesses need a sales and marketing machine able to capitalise on innovations and fully realise a return on any investment in product or service development. Because the workings of this machine tap into know-how tested over decades, it is incredibly easy to engineer. You just need to know where to look and what to look for.
This report explores how to accelerate organic growth through the adoption of better sales processes. As well as drawing on our own experience of working with senior leaders, this report is based on the insights gathered directly from over 70 executives and CEOs. The report focuses on how to improve sales strategy; a framework for growth that brings together all the parts of a business; and pinpoints the key areas where even already-successful companies need help.
Matt Crabtree
Founding Partner, Positive Momentum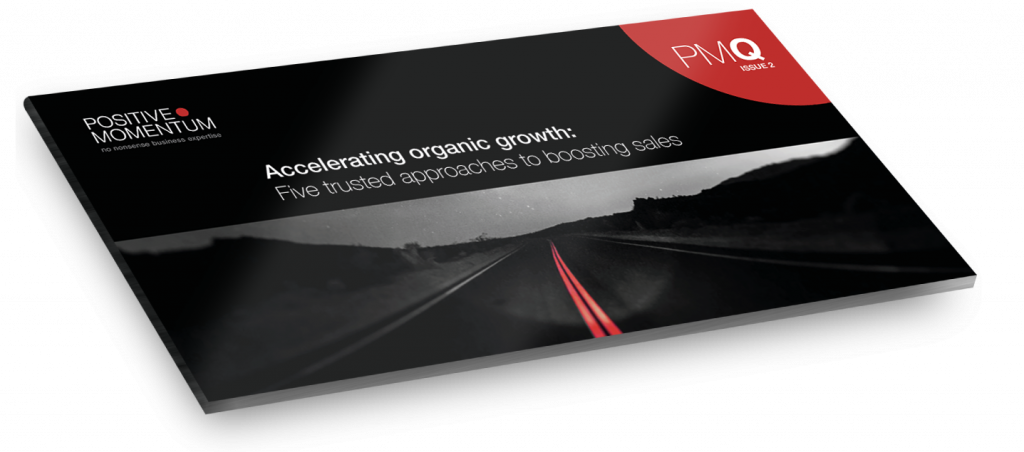 Full Report