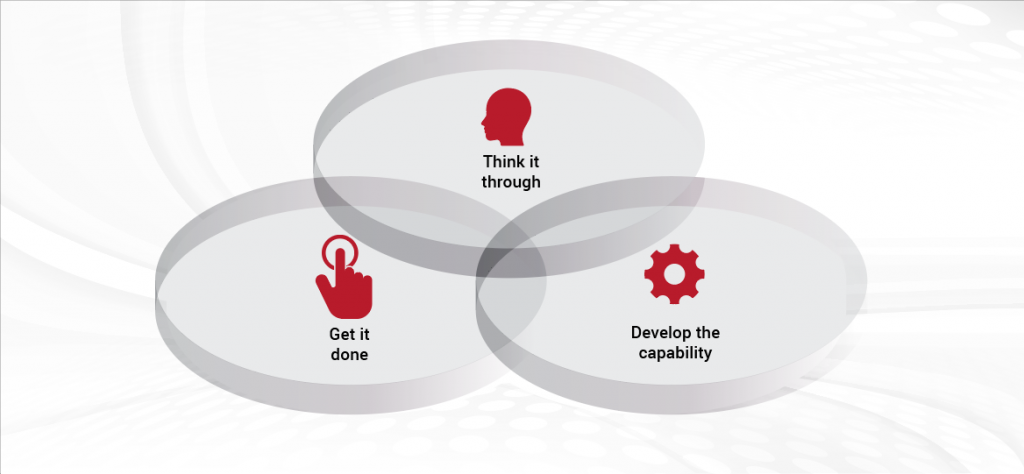 Think it through
Irritatingly perhaps, having an independent sounding board can be just the catalyst you and your team need to make the breakthrough you have been seeking.
As former business leaders, our consultants have been where you are and know that answers can be difficult to find. They have the courage, tenacity and experience to ask you the questions that will lead to the changes you need to make in order to grow.
We've helped Dell to get closer to their strategic accounts, Axians to sharpen their brand and go-to-market strategy, Canaccord Genuity to develop and launch a new set of internal values, Siemens to assess leadership strength in a key subsidiary, BSI to improve marketing operations plus many, many others.
Develop the Capability
The challenge is that everyone is busy and making the time for development can seem impossible. Worse still development too often doesn't quite hit the spot.
Our approach is to build bespoke individual / team / group development interventions that are uniquely suited to your context. No off-the-shelf wonder programmes. No academic wallowing in how it would be if the world were perfect. Instead we work with you to carefully design what is right for you and then deliver the intervention in a mature manner that will change the behaviours and achieve the growth.
We've helped Santander Relationship Directors to substantially grow their business, CGI to develop world class leadership behaviours, Close Brothers to build all-new sales teams, RBS Finance Leaders to lead their teams through major transformation, HP public sector teams to better engage with their clients plus many, many others.
Get it done
Consultants often don't want to get their hands dirty but if you will have us we love to wade in with you.
Perhaps it is taking you longer than you hoped to find just the right permanent person or maybe the project doesn't warrant a permanent person and you just need someone qualified to do the heavy lifting.
Our consultants have all operated in the real world with significant responsibility and though they don't want a job they do have what it takes to make change happen so that you get your growth.
We've helped Samsung to grow their EMEA business, ICG Medical to establish operations in India, Dimension Data to on-board a complex new client, GTT to refocus their market engagement, Telefonica to pursue a major public-sector tender plus many, many others.