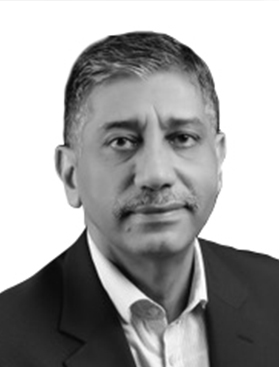 Sandeep Suri
PM India Partners
About Sandeep
Leading often requires one to bring generous range of capabilities on any given situation is the philosophy Sandeep propagates that helps in building the core leadership skills and makes a leader adaptive.

An MBA by profession, Sandeep has over 30 plus years of rich corporate experience in leading MNCs like Fidelity Investments, Dell, Mphasis, General Electric, and ANZ Grindlays Bank. Sandeep's most recent role as Country Head, General Manager and Board member, Ireland with Fidelity Investments was largely around leading a big diverse workforce of Technology, Operations and Analytics. Sandeep was actively engaged in Digital efforts for Fidelity and led RPA efforts at the Enterprise level. Some of his earlier roles spanned across multiple locations like Ireland, Poland, Philippines, UK, Australia and the US. Having worked and lived in multiple countries, managing cross border large diverse teams, Sandeep brings a very global and unique perspective to the table.

With proven track record and extensive experience in working with large corporations, managing big teams, having his own start-up with experiential learning approach, Sandeep's focus is to help the organizations in building a 'skilful leadership'-a leadership that is committed, purposeful so as to unleash the true potential of individuals and the organization at large.
Sandeep has been of part of many industry trade bodies, he was the board member in AMCHAM, Ireland. He was also an active member of NASSCOM, Bangalore chapter and currently a member of European Mentoring and Coaching Council.

Sandeep has been an active speaker in various leadership forums on topics like Robotics and Fintech in Ireland, UK and India.

Talking about Sandeep's passion, he is an avid reader, and sports enthusiast. He and his wife-Divya, travel the world pursuing their common passion-getting closer to nature, appreciating the diverse culture of the 'flat world'! Their elder son, having studied in San Francisco, has recently moved to Cornell to do his master's and their younger son is in high school.
Back to Team